AI Sports App Creates Fun Metaverse Competitions And Rewards Players With MOOV Tokens
As cryptocurrency markets continue to trade down and sideways this week, several Metaverse crypto coins are still showing significant bullish momentum. One such project is Dotmoovs (MOOV), a relatively low market cap Metaverse crypto coin. Let's look at Dotmoovs and its token MOOV and see why it's doing so well.
ALL ABOUT DOTMOOVS (MOOV)?

Launched in June 2021, Dotmoovs (MOOV) describes itself as the ultimate sports app with incredible Metaverse competitions. It integrates a smartphone app with its AI algorithm to create immersive competitions that reward players with MOOV tokens for participating and winning.
DotMoovs introduces a new type of play-to-earn Metaverse where users can have fun without ever leaving their house and get an unbiased score on their performance powered by an Artificial Intelligence referee.
Currently, there are two types of "sports" available on the platform, including freestyle football and dance. One can even think of this as the crypto version of TikTok because users can compete with each other by creating unique dances and getting judged by a robust AI.
In addition, Dotmoovs features an NFT marketplace with several collections users can currently check out. The lowest prices NFTs feature rare soccer balls costing 12k MOOV, roughly $187 at writing.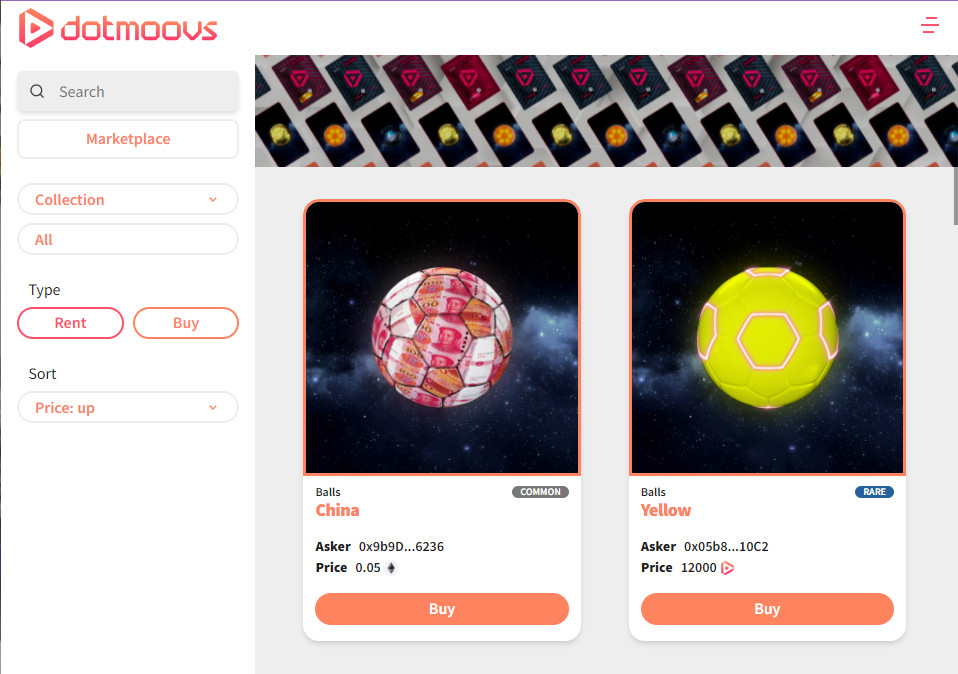 Depending on the collectible, the NFTs are priced either in ETH or MOOV tokens. Users can purchase the NFTs by connecting via a browser-based wallet like MetaMask and initiate the transactions.
Dotmoovs is a unique concept that looks to reward users for the work they put into their regular sports practice. This means that you can get better at soccer or dancing while earning rewards, a unique vision for a Metaverse crypto project.
The Dotmoovs platform enables users to challenge anyone in the world via their matchmaking system. In addition, the platform integrates a proprietary anti-cheat platform that secures the app with fraud detection algorithms to ensure fairness. In addition, users can access the winning party's videos to ensure complete confidence in the results.
Last but not least, the AI-driven arbitration of skill promotes an unbiased look at any performance of any supported sports.
Some plans for Dotmoovs include partnerships with IoT wearables to enable the team to expand their ecosystem further and develop a more robust technology for evaluating performances.
The Dotmoovs app is currently available on iOS and Android devices, and we highly recommend checking it out.
WHY IS DOTMOOVS (MOOV) PRICE RISING IN APRIL 2022?
One reason for Dotmoovs significant price gain today is the upcoming release of the Dance section of the app. This means users will be able to challenge each other to dance competitions, which will open up a whole new paradigm for the app.
With the upcoming Dance feature, Dotmoovs will be comparable to TikTok, and its market valuation could show significant increases.
The team announced that the Dance feature for Dotmoovs will launch around the International Dance Day on the 29th of April 2022.
With the upcoming launch day for the Dance section of Dotmoovs, it's clear that the market is excited about its release, which is a significant driver for MOOV's recent bullish momentum.
With a current market cap of $7.8 million, MOOV is highly undervalued, and the project is a must-watch in March and April 2022.
MOOV is the primary utility asset for the platform used to purchase NFTs and distributed as rewards for users. MOOV features both ERC-20 and BEP-20 versions living on the Ethereum and BNB chains.
You can buy MOOV on Uniswap (V2), Gate.io, PancakeSwap (V2), MEXC, BitGlobal, and Hoo.
Disclosure: This is not trading or investment advice. Always do your research before buying or investing in any crypto coins.
Via this site