3. Krypton
Krypton describes itself as the world's first P2E game that lets you choose your rewards. It's built on the WAX blockchain and features NFTs, a futuristic Metaverse, and some of the best designs.
Check out this awesome video of an example of an NFT on Krypton:
Krypton's vision is to develop a play-to-earn and play-and-mine game. It's not just an idling game where you leave your PC turned on. There are aspects of the game allowing you to earn rewards actively.
A unique feature is Krypton Cores, which allow players to build Krypton Army. There are only 60,000 Krypton Cores available, and with a finite amount of Cores available, users can upgrade each core for maximum potential.
Currently, users need to be whitelisted to purchase Krypto Quest packs for 125 WAX, roughly $59 at writing. If you missed your chance to get whitelisted, I would join Krypton's discord community to stay updated with the latest developments.
Users can also check out the official Krypton collection on the AtomicHub marketplace, but keep in mind the prices are pretty high, with the NFTs listed at over $1,000. The public sale will be available on December 20th at 4 PM UTC, 2 hours after the Community Whitelist Sale at 2 PM UTC.
To secure your participation in the public sale, users must verify their WAX wallets in Krypton's discord channel.
2. Farming Tales
Farming Tales is a 3D farming game allowing users to earn rewards by farming with NFTs. It's built with Unity and features a 3D Metaverse. It will enable users to purchase NFTs from the Atomic Hub marketplace and put them to work earning SEST tokens.
We could purchase a Vegetable garden for roughly $100 and place it on our farm. You can harvest various items at different intervals, and the water garden can be harvested once every three hours.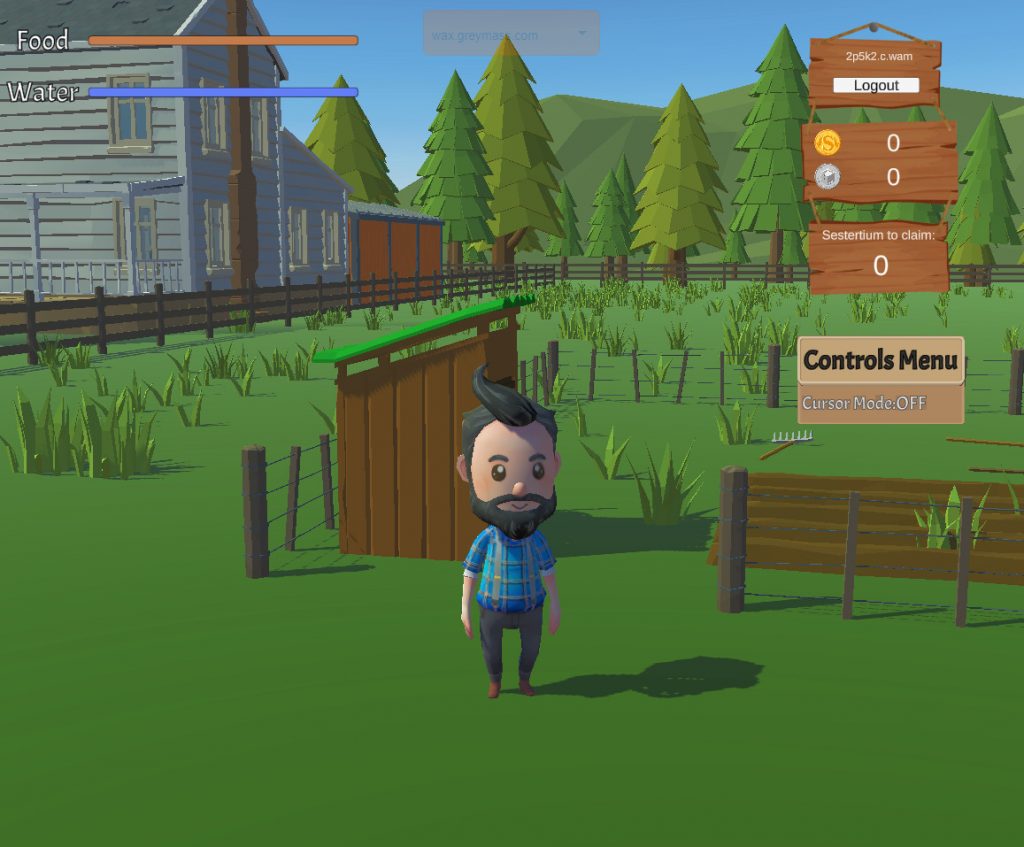 Farming Tales is a combination of an idle farming game but with the aspects of NFTs and based on a play-to-earn model. Overall an extremely underrated game, and its 3D Metaverse built in Unity makes it immersive and unique.
If you're looking to start earning with Farming Tales, check out their NFT collection on Atomic Hub.
1. Alien Worlds
The most popular game on the WAX blockchain and one of the most underrated crypto games on the market is Alien Worlds. It's a play-to-earn blockchain-based NFT game that allows users to mine Trillium.
Players can choose a planet to mine and earn TLM by mining with their tools. Everyone is given a free shovel, to begin with, but it has minimal mining power. Users can purchase better mining tools for higher earning potential. Players can use up to three tools and combine them for optimal mining power.

One unique aspect of the game is how users can purchase Land and charge others fees for mining on their Land. At the time of writing, the cheapest Land was listed at 16,995 WAX, roughly $8,100.
If you're on a budget, the best option is to purchase three standard capacitors at 2 WAX ($0.91) and start mining TLM that way. The NFTs can be bought on Alien World's official collection on Atomic Hub called tool.worlds.
Closing Thoughts
WAX is at the forefront of crypto play-to-earn gaming, and right now is a great chance to hop on board early, before the mainstream drove starts picking up on the hype.
WAX is one of the most popular blockchains for Metaverse crypto games available on the market. You will need to set up your WAX Cloud Wallet to access these games. I highly recommend signing up and depositing a few WAX to start exploring their vast ecosystem.
Disclosure: This is not trading or investment advice. Always do your research before buying any cryptocurrency.
---